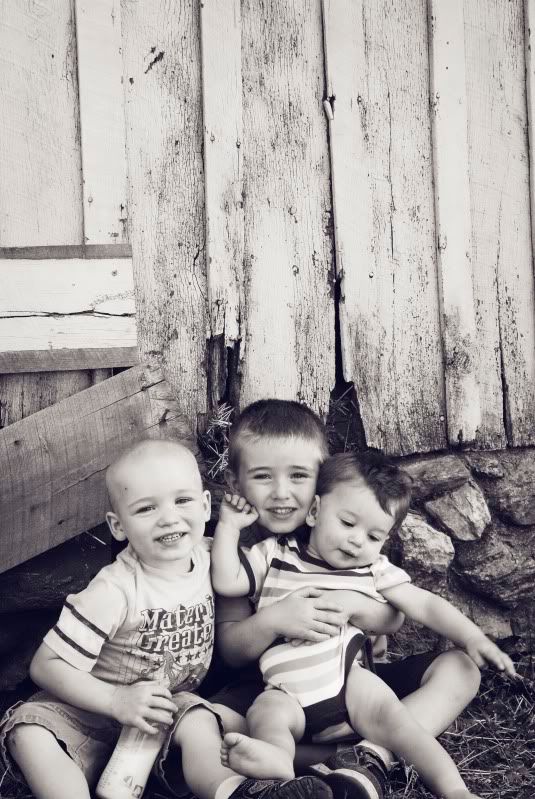 No, the move didn't kill me... I am still here, alive and well! Actually, living a pretty blessed life. The move however, has changed how I am living life these days, and have little to no time to sit at the computer and blog! But here I am, sitting down... ignoring the laundry for a few minutes, the dishes in the sink, and the crumbs on the floor... I think an update is way over due!
To recap the past month, well would be a very long post. I am not sure the poor readers of this neglected blog would enjoy all of that! So I will do my best to be brief:
- We moved to VA October 9, and were thrilled to be here. We had tons of help, and are pretty much settled already into the house. Boxes are the enemy! So our goal in the first few weeks was to empty as many as possible! We generally, sit in the various rooms and marvel at the gift this home has already and continues to be to us.
- The first night the kids came home, Sunday, Jack spiked a fever and Jordan spent 6 hours with him in the ER downtown. They got home some time around 3 am. We were surprised they sent him home, but then they called back Monday at 10:30 pm to tell us his blood did have an infection... again surprised they did not have us come in. The next day, we got a call from our primary nurse, who was extremely stressed that he was not in the hospital getting antibiotics. So, Jack was then admitted and spent the rest of the week in the hospital. What a first week in our new home!
- While at the hospital, his tube in his chest broke, it had gotten pulled on and twisted so much, it just fell to pieces. I went to change his diaper, only to find his chest and diaper covered in blood. This was not what I had hoped to see. I picked him up in my arms, ran into the hall to get help, and tried to calm him down. The nurses and Dr.'s came flooding in, the tube was clamped and we all recovered. I think Jack has an adrenalin rush, because after all that, he was super hyper. Because his tube broke, he had to get an IV in his arm, which sadly took several times, and left Jordan with blood on his pants, and Jack quite miserable. They were able to fix his tube without surgery, and they came home on Saturday.
- Since we have all been home, we have had unpacking, adjusting, time changes, and new daily chemo routines to adjust to. The boys had a rough time at first. Moving out of Jordan's parents home, that is filled with many memories, people, and distractions; to just mommy with them all day and everything being new, provided quite an upheaval for them. Then add the week of Jack's hospital stay, it is not too surprising that we are just now getting things settled here.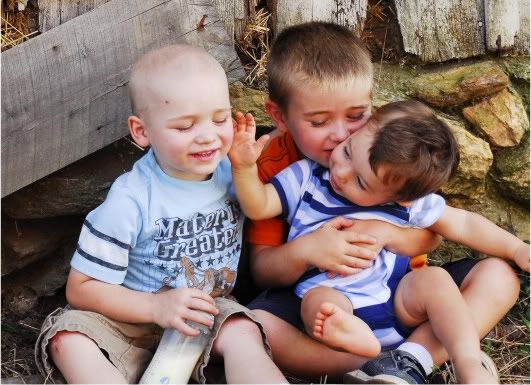 - Jordan and I LOVE living in Virgina. Seriously, i love it here. Our home is conveniently located near pretty much all my favorite stores, only 35 min from the hospital for Jack, and minutes from most friends and people in the church. We love our neighborhood. Today, I took the kids on two walks around the area, to a playground and just on some paths. We live real close to 4 Mile Run, a paved path that is 4 miles long, and is lined with trees and parks. We are loving being only 10 minutes from church, and loving living in community with the people at Redeemer Church of Arlington.
- Dylan took 4 steps to me today. He is my most active child, and is just crazy sometimes. We just got him (as of today) to start going down the steps backwards instead of head first, which was his preferred method. He is a joy, but boy is he active. Hard to believe he will be 1 in two weeks!
- Tomorrow, Jack goes in at 6 am to get his port placed in and his broviac tube removed, at long last! It is looking like it will be a long day, starting at 5:30 am, and who knows when it will end.. hopefully by naps. Jordan will be with him at the hospital. We are praying the procedure go well, without problems, that Jack recover well, and that this be an improvement to life for him in general.
So that is life in a nutshell. I have many many many pictures to post, who knows if I will get to them! I will try.